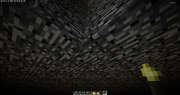 I entered a slider boss dungeon and right as it was loading the game crashed from no memory, so I re-loaded my game and I spawned in the dungeon but under bedrock, I went into creative mode because I kept falling to my death and dug up and found no dungeon at all, I can't find any way out of this dungeon dimension and I really don't want to lose this world. Any help would be appreciated!
EDIT: About 10 mins after post
FIXED BY MYSELF! If anyone else has this problem here is what I did, I went to another computer and joined my world hosted on lan with cheats enabled, then on the 2nd computer I went to the dungeon dimension I was stuck in on the 1st computer and I spawned in the dungeon, I then teleported myself to the dungeon room and I was not lost anymore, hope this helps!