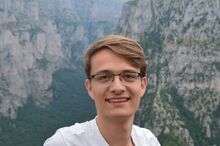 Emile van Krieken is the project manager, composer and a developer for Gilded Games. Apart from two music discs, all of the music tracks in the Aether mod are from him. He lives in the Netherlands in a city called Utrecht where he studies Computer Science.
Emile joined the project in June 2011, and the first tracks appeared in Aether 1.0. He already worked for Brandon Pearce on an earlier Warcraft III mod called Warcraft IV The Edge of Eternity that was never finished. Alongside music he also codes The Aether and other Gilded Games projects, and manages the team.
Click here to listen to, download or buy the soundtrack.
Trivia
He has been mistaken before for a she due to his name, which many people said seems more like a female's name on the Facebook page (Emily).