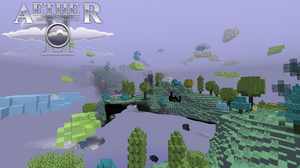 The Aether II: Genesis of the Void or The Aether II is the sequel to The Aether mod, and is set primarily in the Aether dimension. The mod is a complete redo of the original mod and includes a large variety of new features. An alpha version of The Aether II: Genesis of the Void was released June 9th, 2013 and has been continuously updating since.
Development Team
Programmers
Music
Lore
Artwork
Community Manager
Quality Assurance
Former
Changes
New Blocks
Coarse Aether Dirt

Ferrosite and Rusted Ferrosite

Highlands Snow

Highlands Ice and Highlands Packed Ice

Icestone Ore

Ferrosite Sand

Crude Scatterglass

Various Wood Types
Various Leaf Types

Woven Skyroot Sticks

Various Sapling Types
Various Grass Types
Various Flower Types
Various Wall Types

Skyroot Twigs and Holystone Rock

Cloudwool

Scatterglass

Gravitite Block

Agiosite

Agiosite Brick

Various Plank Types

Skyroot Bookshelf

Holystone Bookshelf

Icestone Brick

Skyroot Button

Holystone Button

Skyroot Pressure Plate

Holystone Pressure Plate

Various Slab Types
Various Stair Types
Various Glass Pane Types

Cloudwool Carpet

Outpost Campfire

Masonry Bench

Icestone Cooler

Aether Portal Utility Block

Decorative Agiosite Brick

Decorative Icestone Bricks
New Items
Moa Saddle

Gravitite Plate

Cloudtwine

Moa Feather

Cockatrice Feather

Taegore Hide

Burrukai Pelt

Valkyrie Grass

Brettl Cane

Brettl Grass

Swet Sugar

Irradiated Items

Taegore Leg

Roast Taegore

Burrukai Rib Joint

Burrukai Ribs

Kirrid Loin

Kirrid Cutlet

Fried Moa Egg

Arkenium Shears

Skyroot, Holystone, Zanite, Arkenium, Gravitite Crossbows

Skyroot, Holystone, Scatterglass, Zanite, Arkenium, Gravitite Bolts

Skyroot, Holystone, Zanite, Arkenium, Gravitite Shields

Taegore Hide Hood, Jacket, Leggings, Boots, Gloves

Arkenium Helmet, Chestplate, Leggings, Boots, Gauntlets
Gameplay
Mobs
Dungeons
Dungeons do not exist in current version
Misc
New inventory options, such as Book of Lore.
Donators now can change textures of armor
New Menu API

Includes Official Aether Server button

In the Official Aether Server, donators will have a donator tag to the left of their username in the chat
However, as of right now, the Official Aether Server is down, so this function will not work.

Allows players to choose different title screens
Lets players select music they want to play at the title (not in the 1.10.2 build at the moment)
Upcoming
History
Initial release: Introduced
1.6.4.3: Fixed a memory leak with animal spawning within in the Aether dimension
1.6.4.4: Beds now work in the Aether, including the new Skyroot Bed.
1.7.10-1.2:
1.7.10-1.3: Made the Aether burnable
1.7.10-1.5: Added a configuration option for the Aether Biome ID
1.7.10-1.6: Fixed beds not working in the Aether dimension
1.10.2: Added the new models, removed and changed tons of mobs, added new items, etc.
See Also
External Links
References